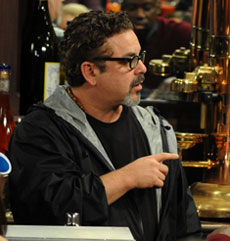 Bob Krakower is recognized as one of the top acting teachers and coaches in the business. His clients have been nominated for Tony, Emmy, and Academy Awards. Bob teaches the "Krakower Technique" in both New York and LA. He also keeps a busy coaching schedule on set for numerous film and television projects.
A graduate of Tufts University and the American Conservatory Theatre. He also served as Guest Director/Teacher for David Mamet and William H. Macy at the Atlantic Theatre Company. Eventually taking over as Director of the Atlantic Theatre Company Acting School, Bob ran both the Professional and NYU Undergraduate Divisions. He has been on staff and guest-taught at: NYU, the Stella Adler Conservatory, The Howard Fine Studio, and The Actor's Center in New York, among many others. He joined Earl Gister (Yale), Lloyd Richards (Broadway), and J. Michael Miller (NYU) as a Founding Faculty Member of The Actor's Center.
How it Works
Bob's on-camera audition technique classes are exclusive to One On One NYC. He teaches three levels: New Student, Advanced, and Master. Each Level is a prerequisite for the following level. All actors interested in studying with Bob must first create a new account with One On One. *Current members do not need a new account*
If you would like to take a class with Bob, please log in to your account and add yourself to the most recent waitlist. If there isn't a class displayed please be on the lookout for when the next class opens and then you can add yourself to that waitlist.
Please make sure to add yourself to the waiting list every time a class becomes available on the website to receive the most up to date notifications for when Bob's next New Students Class. If you don't add yourself to the most current waitlist you won't receive updates.