Mock Callback Class with Katja Zarolinski of MCCORKLE CASTING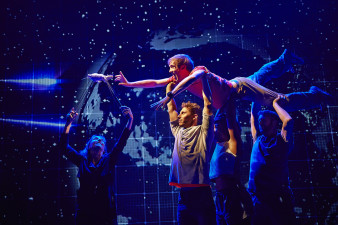 ---
Dates: Mon 3/4 @ 7pm
Meets 2 times: 3/4 3/11
---
Katja Zarolinski is working on 15 PRODUCTIONS!

Regionally, Katja casts for:

Barrington Stage Company in MA
Studio Theatre in DC
Pittsburgh Public Theater
Repertory Theatre of St. Louis
Arkansas Repertory Theater
TheaterWorks Hartford in CT
Guthrie Theater in MN

Some upcoming titles include: INDECENT, THE CRUCIBLE, THE NERD, ON THE TOWN, RAGTIME, TWELFTH NIGHT, THE HUMANS, AN ENEMY OF THE PEOPLE...
McCorkle Casting has cast Broadway's AMAZING GRACE, ON THE TOWN, END OF THE RAINBOW, THE LIEUTENANT OF INISHMORE, CABARET as well as Off-Broadway's PARTY FACE, ETHEL SINGS, STALKING THE BOOGEYMAN, and ADMIT ONE.
---
Format
WEEK ONE: Katja will assign Theatre Sides to be worked in class.
WEEK TWO: Katja will setup a Mock Callback with Week One's sides.
PREPARATION
Look out for your side assignments to be posted under "class sides" 1-3 days before the class.
***Class Structure is subject to change.
This seminar or class is for educational purposes only and will not secure or provide opportunity for employment in the field or representation by an agent. One on One is bonded in the State of California: #70978001
---
About Katja Zarolinski
▼
Katja Zarolinski, Casting Director, McCorkle Casting, Ltd. McCorkle Casting has most notably cast Broadway productions of END OF THE RAINBOW, HIGH, THE LIEUTENANT OF INISHMORE, THE GLASS MENAGERIE, CAT ON A HOT TIN ROOF, ONE FLEW OVER THE CUCKOO'S NEST, THE RIDE DOWN MT. MORGAN, AMADEUS, A DOLL'S HOUSE, SHE LOVES ME, BLOOD BROTHERS, and A FEW GOOD MEN. A sampling of Off-Broadway credits include: TRIBES, AN ERROR OF THE MOON, FREUD'S LAST SESSION, THE TOXIC AVENGER, OUR TOWN, ADDING MACHINE, ALMOST MAINE, ADDRESS UNKNOWN, EARS ON A BEATLE, DOWN THE GARDEN PATHS, KILLER JOE, VISITING MR. GREEN, MRS. KLEIN, DRIVING MISS DAISY. Film credits include: THE MURPHYS, BERNARD AND HUEY, FURY & TENDERNESS, QUEEN BEE, PREMIUM RUSH, GHOST TOWN, WAR EAGLE, BEREFT, SECRET WINDOW, BASIC, THE THOMAS CROWN AFFAIR, THE 13TH WARRIOR, MADELINE, DIE HARD WITH A VENGEANCE, SCHOOL TIES. A few television highlights include: THE ELECTRIC COMPANY, CALIFORNICATION (Emmy nomination), 3LBS., THE EDUCATION OF MAX BICKFORD, BARBERSHOP, CHAPPELLE'S SHOW. McCorkle Casting also casts for regional theatres across the country.
Success Stories

After attending a session with Katja Zarolinski, Amadeo was brought in for an audition for McCorckle Casting.
Amadeo Fusca