HEAD Casting Director Scott Wojcik of Wojcik/Seay Casting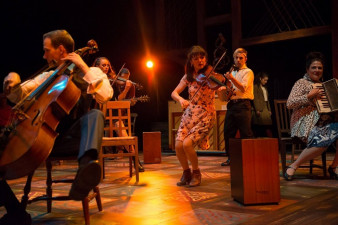 ---
---
Scott works on a ton of Regional Theatre, Independent Film, Commercial Print
& Off Broadway projects.
Given his many upcoming projects, Scott books all types of actors!

(Union & Non Union!!)
Recent Projects:
Film: Best Man In The Dark
New York Theatre: Church & State (New World Stages, Off Broadway), Handle With Care (Off Broadway)
Regional Theatres: Surflight Theater, John Engemen Theatre, Arvada Center - Denver, Riverside Theater, Stage ST. Louis, Theatre Aspen, and Astoria Performing Arts Center


---
Format
Scott would like to see a contemporary monologue.
PLEASE ARRIVE 20 MINUTES BEFORE YOUR APPOINTMENT TIME AND BE PREPARED TO STAY UP TO AN HOUR AFTER.

This seminar or class is for educational purposes only and will not secure or provide opportunity for employment in the field or representation by an agent. One on One is bonded in the State of California: #70978001
---
About Scott Wojcik
▼

Scott Wojcik has lived in NYC since 1992. He attended Bentley College in Waltham, MA, where he studied Management & Marketing and did his graduate studies in Arts Management at Texas Tech University. While at TTU, he also did extensive undergraduate course work in acting and directing. Following work in Dallas and on tour, his acting brought him to NYC. Scott supplemented his acting career by working as a freelance Casting Assistant for several Independent Casting Directors until 1999, when he joined Charles Rosen Casting. Scott became partner of Rosen & Wojcik casting in 2005. His work as an Arts Presenter during college and grad school led to an interest in producing. To further that interest, Scott aligned his skills with partners to form CRW Productions, a company that creates customized theatrical events. From 2002 to 2007, CRW produced projects that ranged from corporate fundraisers, philanthropic events to new musicals and developmental readings as well as a multi-million dollar product launch in South America. In addition to casting, Scott pursues his interest in education by teaching audition skills. He is on faculty at CAP21 and teaches regularly for SAG, NYU, and Vassar's summer program. Along with co-teacher Susan Pilar, Scott has developed a curriculum called "FUSE." FUSE is designed to help recently graduated acting students bridge the gap between the academic and professional acting environment. www.wscastingonline.com
Recent and current projects include: THE HUNT WITH JOHN WALSH on CNN, OTHELLO: THE REMIX Off-Broadway, ON THE RAILS Off-Broadway, THE PORTAL Off-Broadway, reading of FALLIN IN LOVE WITH MR. DELLAMORT, Norwegian Cruise Lines, 1776 and MARY POPPINS for the Engeman Theatre, Tresemme Hair Care commercials, multiple regional theatre and musical theatre productions, CHIX 6 the rock musical, MOTOWN national tour.