ONLINE PANEL (3:30pm PT / 6:30pm ET): Meet FOUR NYC Legit Agents in ONE evening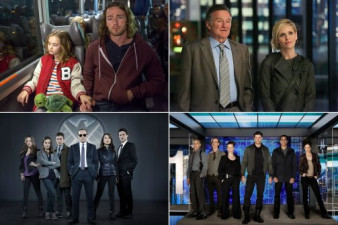 ---
Date: Thu 7/30 @ 6:30pm ET / 3:30pm PT
---
Join us LIVE online!
You will receive a Zoom link and instructions at least 6 hours before the beginning of class. Please check your spam and promotions folder. If you still do not see the email, please email us at info@oneononenyc.com! If you sign up for the class the day before or the day of, please also email us so we can provide you with your Zoom link.
Looking to meet some of the industry's top representative professionals?

This is an amazing opportunity to meet & work with
FOUR LEADING NYC LEGIT AGENTS IN ONE EVENING!
Guests for the afternoon include:
Barrett Bischoff from KMR
Traci Luthy from BONA FIDE ARTISTS
Jim Daly from BLOC TALENT AGENCY
Katie Murphy from MEG PANTERA AGENCY
This is a great opportunity to SHOWCASE your work to
FOUR leading INDUSTRY PROFESSIONALS!
*Panel Guests Subject to Change*
---
Format
The only things you need are :
- Reliable Internet (Ethernet or Fast WiFI)
- A Laptop/Desktop computer is recommended (Phones/Tablets are doable)
- Quiet Room/Space
*FORMAT*
The panel will begin with quick introductions from each panelist, followed by a brief industry discussion with pre-selected questions from One On One / Next Level.
You will then be seen PRIVATELY by the panel using YOUR OWN SIDES (NO MORE THAN 2 PAGES IN LENGTH). After your scene performance, you will have a brief period to give a quick pitch of your career highlights.
WE WILL PROVIDE A READER. A DropBox link will be sent before the event for you to upload your scene for the reader to review. *NO MORE THAN 2 PAGES IN LENGTH*
Don't have sides of your own? Feel free to use ones from our online library - CLICK HERE
Your headshot/resume will be provided to the panelists DIGITALLY via your One on One / Next Level webpage. Please be sure your webpages are complete with headshot, resume, and ideally a video clip.
The private sessions will be performed in ALPHABETICAL ORDER BY LAST NAME. Please be patient if your last name is further down the list as there will be a wait. **No time requests will be taken.**
**PREPARATION**
Account - Please go to My Account to complete your webpage. Industry panelists are provided access to your webpage & contact information.

Sides - Please make sure your scenes are no more than 2 pages in length. You will be sent a DropBox link a few hours prior to the event for you to upload your sides.

Reader - We will provide a reader.

Headshot/Resume - The panelists are provided with industry accounts which have digital copies and are linked to your One on One / Next Level webpages. Please be sure your webpages are complete with headshot, resume, and ideally a video clip.
ONLINE CLASSES
You MUST have a reliable internet connection in order to have the optimal experience. One on One will NOT credit you if your class experience is affected by internet or technical issues on your end.
The Zoom link for each class is sent out approximately 6 hours beforehand. It is your responsibility to make sure you have the link and to reach out to One on One PRIOR to the start of class if you have not received it. Please be sure to check your Inbox, Promotions, and Spam folders.
If you sign up for an Online Class the day of, you must email info@oneononenyc.com so you can be sent the Zoom link for the class.
One on One is proud to offer our online classes with casting directors in both NYC & Los Angeles. The start time of the class along with the respective time zone is listed clearly on the class page. It is your responsibility to mark your calendars accordingly. One on One will NOT credit you if you did not take the time zone of the class into account.
Please understand that our workshops and classes are not job interviews or auditions. The presence of an industry guest is neither a guarantee nor a promise of employment, and such contact as you may have with a guest in a workshop rarely results in any further contact with that person. All workshop companies are prohibited by law from offering or attempting to obtain auditions or employment for you. ** It is the law for all talent training services, of which workshops are a part, to be bonded with the Labor Commissioner of the City of Los Angeles. This seminar or class is for educational purposes only and will not secure or provide opportunity for employment in the field or representation by an agent. Next Level Studios/One on One is bonded in the State of California: #70978001
**Panel Guests subject to change.
**Format subject to change
---
About Industry Guests I
▼
About Barrett Bischoff
▼
A New York native, Barrett grew up with a deep-seeded appreciation for the arts in all forms. While he plays several instruments and was an aspiring musician in his youth, Barrett ultimately attended the University of Connecticut and graduated with a Bachelor's degree in Economics and Political Science. Seeking to marry his business acumen with his passion for entertainment, Barrett determined to pursue a career as a talent agent. To that end, he interned in CESD's New York office while in school and would return for full-time employment upon graduation. After learning the fundamentals of the trade, Barrett sought further knowledge and growth with a move to Innovative Artists. There he continued his fastidious study of the industry, and after two years would leave to assume a position as a theatrical agent at KMR. When not working, Barrett enjoys catching a Yankees game, playing music, and exploring the many adventures that New York has to offer.
About Traci Luthy
▼

Bona Fide Artists was founded by Traci Lynn Luthy as a collaborative talent agency offering full-service representation with a strategic approach.
Traci's career began in advertising where she worked on campaigns for major brands including Johnson & Johnson, HomeGoods, Burger King, The Home Depot and Colgate/Palmolive. This background provided a solid knowledge and understanding of marketing, branding and strategy, which she now utilizes in her unique approach to artist representation.
With 15+ years of experience as a talent agent, Traci has booked talent in all areas of the business for such notable clients as HBO, ABC, Amazon Prime, Spike Lee, Saks 5th Ave., Vogue, Gap, Bed Bath & Beyond, Pepsi, Chase Bank, Wyndham Hotels and many others.
Originally from St. Louis, Traci earned her BA from Xavier University of Louisiana, and now resides in New Jersey with her husband and son. Forever influenced by her years living in New Orleans, Traci loves good food, good music and good friends.
Success Stories

I met Traci at one of the Agent Showcases and auditioned for her! I was called in to discuss representation and signed with her!
Matt Pasini
About Jim Daly
▼
Jim Daly has been head of the legit department at Bloc NYC since 2007. He has clients performing in numerous Broadway shows including A BRONX TALE, JERSEY BOYS, CHICAGO, PARAMOUR, FIDDLER, CATS, ALADDIN, ON YOUR FEET, KINKY BOOTS, and HAMILTON, as well as the national tours of BEAUTIFUL, WICKED, FINDING NEVERLAND, PHANTOM OF THE OPERA, and THE SOUND OF MUSIC. His clients make regular appearances on episodics ranging from INSIDE AMY SCHUMER to ORANGE IS THE NEW BLACK and YOUNGER to GOTHAM.
Success Stories

After meeting with Maegan Mishico Morris & Jim Daly, Kevin is now SIGNED with BLOC NYC!
Kevin Angulo

After meeting Jim Daly of Bloc NYC at a One on One session, Mariana is officially signed across the board!
Mariana Cardenas

After seeing Claire at the legit agent panel, Jim Daly of Bloc NYC CALLED HER IN to discuss representation!
Claire Fort
About Katie Murphy
▼
KATIE MURPHY- Agent, Pantera/Murphy, The Agency
Graduated from Nazareth College of Rochester, with a Bachelor of Science in Musical Theater. Katie has been working at Meg Pantera The Agency for 2 ½ years, and just became an agent. Katie participates in the Actors Loft when available.www.actorsloftnyc.com
Success Stories

After attending last November's AIW (first session) I was called in by Katie Murphy to meet Meg Pantera. Meg and Katie signed me! I am now represented by Pantera/Murphy.
Daniel Popowich

I was called in for a meeting with Katie Murphy from Pantera/Murphy Agency!
Zonia Edward