Masterclass with Visiting LA Acting Coach Craig Archibald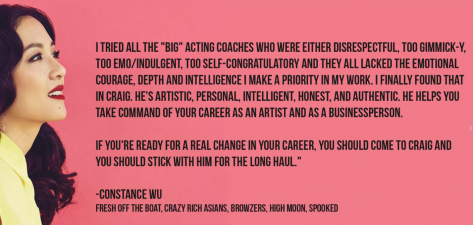 ---
Dates: Fri 5/17 @ 3pm
Meets 3 times: 5/17 5/18 @ 10am 5/19 @ 10am
---
Join us for a weekend long Masterclass with famed, visiting acting coach Craig Archibald. As a writer, director, producer, actor and coach, he's worked with notable talent such as Constance Wu, Dan Futterman, Kathyrn Erbe, Eric Roberts, and many more!
---
Format
Friday May 17th: 3p to 5p Introduction/Orientation
Saturday May 18th: 10a to 5p (w/ breaks) On-Camera Class
Sunday May 19th: 10a to 5p (w/ breaks) On-Camera Class
This seminar or class is for educational purposes only and will not secure or provide opportunity for employment in the field or representation by an agent. One on One is bonded in the State of California: #70978001
---
About Craig Archibald
▼
Canadian-born Craig Archibald has developed an invaluable position in the world of show business. As a writer, director, producer, actor and coach, Craig has shown a noticeable range of versatility and experience in almost all aspects of the entertainment industry.
Craig's professional stage career began in Canada at the age of 15 in 1978 and led to his award-winning film and television career which began in 1993. While Craig has had the honor of acting and working on Academy Award winning films, Craig is best recognized for his founding of the Archibald studio.
The Archibald Studio was established to offer instruction to actors of all experience levels. While Craig is honored to have visiting clients such as actors Eric Roberts, Dan Futterman, John Slattery, Kathryn Erbe, Constance Wu, Brandon Sklenar, Duane Henry and Mouzam Makkar, he also receives great joy by taking clients at the beginning of their career on the journey towards finding the peak of their abilities.
Craig has created The Archibald Studio with the goal of assisting film and television artists to achieve their greatest potential