SPECIAL INTENSIVE! Theater & Indie Film Intensive with CD Judy Bowman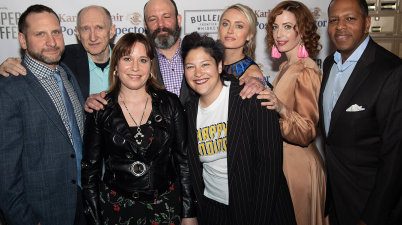 ---
---
Judy is currently working on EIGHT film projects this year! She recently cast an episode of Big Dogs. She is also actively casting seasons for over FIVE good equty regional THEATRES across the country right now including a new show on THEATRE ROW that opens in October!
TV/FILM: T-11, Buck Davis, Eli Moran, Big Dogs, Lost Cat Corona, Hurricane Bianca, Drawing Home, Gold Star, Dynamite: A Cautionary Tale, Handicapped Stall THEATRE: Familiar (Woolly Mammoth Theatre), Driving Miss Daisy (Mile Square Theatre), The Invisible Hand (Cleveland Play House), Issei, He Say (NJ Rep/Jeff Liu), I Hate Hamlet (Dorset Theater Festival), Trouble Cometh (San Francisco Playhouse), Swimming in the Shallows (The Kitchen Theater Company), Count Me In (The Kitchen Theater Company), Fashions For Men (Mint Theater Company)
Judy loves casting talented One On One actors and has repeatedly commented, "Thank you for providing me with some great new talent!"
---
Format
Hone and perfect your TV/Film audition skills in this On-Camera Class with head CD, JUDY BOWMAN of Judy Bowman Casting. In class, Judy generously works with you, giving you productive feedback and individualized adjustments for your scenes.
Judy will assign you a scene 1-3 days in advance based on your headshot & One on One Webpage
Judy's class will include:





Industry Q&A Assigned Scenes On-Camera Videos Sent

**PREPARATION**
Account - Please go to My Account to create your webpage. Casting Directors will assign material based on a fully completed webpage.

Sides - Scene assignments will be posted 1-3 days in advance, as Judy likes to replicate being given material in a professional situation.

Reader - Make sure to bring 2 COPIES OF YOUR SIDES (one with the reader's lines highlighted). WE WILL PROVIDE A READER.

Headshot/Resume - ALWAYS BRING A HARD COPY TO CLASS FOR FEEDBACK PURPOSES. When the class is over, the guest teaching this class will not be taking nor given access to your headshot, resume, or any other of your promotional materials per CSA guidelines.
*** Class Structure is subject to change. ***
Please understand that our workshops and classes are not job interviews or auditions. The presence of an industry guest is neither a guarantee nor a promise of employment, and such contact as you may have with a guest in a workshop rarely results in any further contact with that person. All workshop companies are prohibited by law from offering or attempting to obtain auditions or employment for you. ** It is the law for all talent training services, of which workshops are a part, to be bonded with the Labor Commissioner of the City of Los Angeles. This seminar or class is for educational purposes only and will not secure or provide opportunity for employment in the field or representation by an agent. Next Level Studios/One on One is bonded in the State of California: #70978001
---
About Judy Bowman
▼

Judy Bowman has been casting in New York City since 1993. Recent film casting includes BLOCK ISLAND, NO ALTERNATIVE, LOVE AND EVERYTHING IN BETWEEN, DWARVES OF DEMREL, and HURRICANE BIANCA. She received an Artios Award nomination for her casting of the webseries KARL MANHAIR: POSTAL INSPECTOR. Judy currently casts with the following theaters: Woolly Mammoth in DC, the Dorset Theatre in Vermont, the Kitchen Theatre Company in Ithaca, Merrimack Rep, and San Francisco Playhouse. In New York, she works with the Attic, Partial Comfort, Project Y, Jewish Plays Project, and Your Name Here. She is an adjunct Assistant Professor at Columbia University Film School's MFA program. UPCOMING: THE 'MORE' SERIES(EPISODIC).
Success Stories

After taking Judy Bowman's class at One on One, Kim was called in for and booked the TAKE TEN play festival!
Kim Blanck