FILMMAKER SERIES: Screenwriter & Director Noor Gharzeddine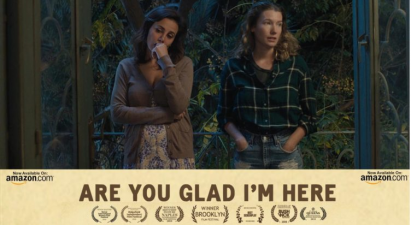 ---
Dates: Thu 10/3 @ 7pm
Meets 2 times: 10/3 10/10
---
Noor Gharzeddine is an award-winning Writer, Director, & Producer based in New York. Noor is currently shooting a short video series, developing a scripted comedy, and writing her next film!
Her debut feature, Are You Glad I'm Here, was screened at 20 film festivals world wide and is currently available on Amazon and other streaming platforms!
---
Format
Hone and perfect your film acting skills in this two-week on-camera class with Noor Gharzeddine! In class, Noor generously works with you, giving you productive feedback and individualized adjustments for your scenes.
Noor's class will include:





Industry Q&A Assigned Scenes On-Camera Videos Sent
Week 1: Noor will assign "General Sides" that you will choose from to perform in class. Noor will explain the materials and work with you in a group setting.
Week 2: Noor will assign you specific sides after meeting you in the first class.
**PREPARATION**
Account - Please go to My Account to create your webpage. Casting Directors will assign material based on a fully completed webpage.

Sides - Scene assignments will be posted 1-3 days in advance.

Reader - Make sure to bring 2 COPIES OF YOUR SIDES (one with the reader's lines highlighted). WE WILL PROVIDE A READER.

Headshot/Resume - ALWAYS BRING A HARD COPY TO CLASS FOR FEEDBACK PURPOSES. When the class is over, the guest teaching this class will not be taking nor given access to your headshot, resume, or any other of your promotional materials per CSA guidelines.
*** Class Structure is subject to change. ***
Please understand that our workshops and classes are not job interviews or auditions. The presence of an industry guest is neither a guarantee nor a promise of employment, and such contact as you may have with a guest in a workshop rarely results in any further contact with that person. All workshop companies are prohibited by law from offering or attempting to obtain auditions or employment for you. ** It is the law for all talent training services, of which workshops are a part, to be bonded with the Labor Commissioner of the City of Los Angeles. This seminar or class is for educational purposes only and will not secure or provide opportunity for employment in the field or representation by an agent. Next Level Studios/One on One is bonded in the State of California: #70978001
---
About Noor Gharzeddine
▼

Noor Fay Gharzeddine is a Lebanese-American filmmaker born and raised in New York City. She is the recipient of the 2018 Joe Consentino Emerging Filmmaker Award and won Best First Feature at the Naples International Film Festival. Noor enjoys studying unlikely relationships and strange environments in her work. She is fascinated with films that blend hyper-realism with absurdity, and tragedy with comedy.
Her debut feature, Are You Glad I'm Here, premiered at the Atlanta Film Festival in April of 2018 and went on to 17 other film festivals throughout the US, Middle East and Europe. The film won the Audience Award and Best Original Score at the Brooklyn Film Festival, Best Screenplay at the Napa Valley Film Festival, and was the runner up for Best Narrative Feature at the Bushwick Film Festival. After a month long theatrical release in Lebanon, the film is now available on Amazon Prime and other SVOD platforms.
Noor has a BA in Film and Electronic Arts from Bard College, where she had the privilege of studying under influential filmmakers such as Kelly Reichardt, Ben Coonley and Peter Hutton. She is currently shooting a short video series, developing a scripted comedy, and writing her next film.