Master Class with Academy Award Nominee Chazz Palminteri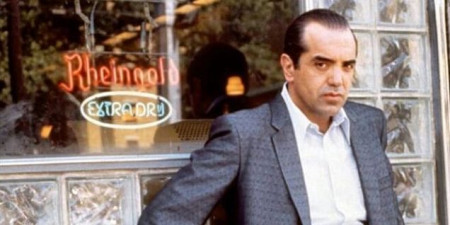 ---
Dates: Tue 1/21 @ 11am
Meets 3 times: 1/21 1/22 1/23
---
Chazz's long and illustrous career includes over 50 films to his credit, but he is probably best known for his performances in The Usual Suspects, Poolhall Junkies, Jade, Analyze This, Hurlyburly, Mullholland Falls, Faithful (writer & actor), and Bullets Over Broadway (Academy Award nomination)!
Chazz also directed an episode of HBO's Oz, Showtime's Women vs. Men, and the feature film Noel starring Susan Sarandon, Robin Williams, Paul Walker, and Penelope Cruz.n 1989, Chazz wrote and performed his one-man show A Bronx Tale in Los Angeles. One night, Robert DeNiro saw the show and made his directorial debut with the screen adaption, which Palminteri wrote and co-starred in.
ACTOR REVIEWS
Chazz Palminteri's class not only made me a better actor but it also helped me book more jobs.He has a style of teaching that just makes sense and gives you confidence and helps you to face your fears. He definitely taught me to use the light inside me and will help you to ignite the light inside you and use it to your advantage. Highly recommended. - Mike Massimino
Chazz Palminteri's class is a perfect step in the right direction for the serious acting student. He generously shares the many layers of knowledge he has from being an accomplished professional actor, writer, and director. Chazz is incredibly focused on each student's performance. His insightful feedback and challenging exercises will not only increase your skill level as an actor but will create opportunities to move forward confidently in all matters of life. If you are passionate about acting, I could not think of a greater opportunity. - Aprella Godfrey Barule
Chazz Palminteri's Master Class was a uniquely enlightening experience. The ease with which he guides actors in scene work is inspiring... his attitude towards being an actor in the biz is infectious. - Allesandro Cello
---
Format
In this 3 day class, actors will discover the best audition techniques to book the role. Chazz will teach students how to own the room, make bold choices, and leave a lasting impression for Casting Directors. In class, Chazz will generously work with you, giving you feedback and adjustments to your scenes and monologues. This class is for the serious, professional actor. One on One NYC reserves the right to remove any student from the class per Chazz's discretion.
Chazz's class will include:

Monologue + Assigned Scenes
DAY 1: Bring in a prepared monologue of your choice.
DAY 2: Chazz will assign you scenes.
DAY 3: Chazz will assign you scenes.
**PREPARATION**
Account - Please go to My Account to create your webpage. Casting Directors will assign material based on a fully completed webpage.

Sides - Scene assignments will be posted after Chazz gets to know your work on Day 1.
Headshot/Resume - ALWAYS BRING A HARD COPY TO CLASS FOR FEEDBACK PURPOSES. When the class is over, the guest teaching this class will not be taking nor given access to your headshot, resume, or any other of your promotional materials per CSA guidelines.
*** Class Structure is subject to change. ***
Please understand that our workshops and classes are not job interviews or auditions. The presence of an industry guest is neither a guarantee nor a promise of employment, and such contact as you may have with a guest in a workshop rarely results in any further contact with that person. All workshop companies are prohibited by law from offering or attempting to obtain auditions or employment for you. ** It is the law for all talent training services, of which workshops are a part, to be bonded with the Labor Commissioner of the City of Los Angeles. This seminar or class is for educational purposes only and will not secure or provide opportunity for employment in the field or representation by an agent. Next Level Studios/One on One is bonded in the State of California: #70978001
---
About Chazz Palminteri
▼
Bronx-born and raised, Chazz Palminteri was a natural choice to continue the long line of prominent Italian actors in the film industry. In the tradition set forth in the 1970s by such icons as director Martin Scorsese and actors Robert DeNiro, Al Pacino, and Joe Pesci, Palminteri has brought grit, muscle, and an evocative realism to the sidewalks of his New York neighborhood, violent as they are and were.
Born in 1952, Palminteri grew up in a tough area of the Bronx, and it gave young Calogero (Palminteri's given first name) the life lessons that would later prove very useful to his career. He started out pursuing his craft in studying at the Actor's Studio with Lee Straussberg. He appeared Off-Broadway in the early 1980s while paying his dues as a singer in his own band.

Well known for A BRONX TALE, Palminteri originally wrote the script for the stage and performed it as a one-man show in Los Angeles. It became the hottest property in Hollywood since ROCKY. Mr. Palminteri was offered over a million dollars to walk away from the project, and with $200 left in the bank, he refused. He wanted to play Sonny and write the screenplay. One night, Robert DeNiro walked in to see the show, and as they say, "the rest is history." He then moved the production to New York, where it played for four sold-out months and earned him nominations for the New York Outer Critics Circle for both acting and writing. While in New York, he completed the screenplay of A BRONX TALE and soon found himself starring opposite Robert DeNiro, who chose the script for his directorial debut.

Chazz has more than 50 movies to his credit, including THE USUAL SUSPECTS, BULLETS OVER BROADWAY (Academy Award nomination), ANALYZE THIS, HURLYBURLY, MULHOLLAND FALLS, FAITHFUL (screenplay also written by Chazz Palminteri), POOLHALL JUNKIES, THE PEREZ FAMILY, JADE, DIABOLIQUE, DOWN TO EARTH, and A GUIDE TO RECOGNIZING YOUR SAINTS. Recent films include: FINAL RECOURSE, MIGHTY FINE, YONKERS JOE, JOLENE, and THE DUKES. He has also directed the HBO series OZ (episode: "Unnatural Disasters"), Showtime's WOMEN VS MEN, and the feature film NOEL starring Susan Sarandon, Penelope Cruz, Robin Williams, and Paul Walker. He appeared on the New York stage in the play THE RESISTIBLE RISE OF ARTURO IU starring with Al Pacino, John Goodman, Steve Buscemi, and Billy Crudup. Chazz is a member of the Actors Studio in NYC.

Chazz received the 1996 Leadership in Entertainment Award from the Coalition of Italo-American Association, Inc. and was honored by President Clinton with a Special Achievement Award for the Performing Arts from the National Italian American Foundation in Washington, D.C.

Chazz currently resides in Weschester County, NY with his lovely wife, Gianna, and their two children, Dante and Gabriella.