SPECIAL 5-WEEK CLASS with Alaine Alldaffer of Playwrights Horizons + Showcase!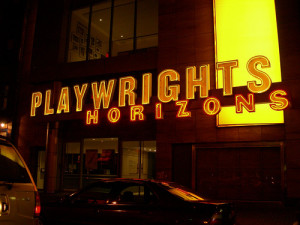 ---
Dates: Thu 2/20 @ 7pm
Meets 5 times: 2/20 2/27 3/5 3/12 @ 6:30pm 3/19
---
Head of Casting at Playwrights Horizons, Alaine Alldaffer, has regularly called in and cast One on One actors!
EXCLUSIVE ONE ON ONE FORMAT!
Showcase your work to three influential industry guests on the fourth class!
Alaine's credits include GREY GARDENS (Broadway), CLYBOURNE PARK (Broadway), CIRCLE MIRROR TRANSFORMATION (Drama Desk and Obie Awards for Best Ensemble and an Artios Award for Casting), THE FLICK (Playwright Horizons and The Barrow Street Theater) & more!
---
Format
In an extended 5-week Scene Study class, perfect your audition, cold reading, and scene analysis techniques with one of our most popular teachers. Alaine's specialty is working with actors on scene and character study work. This involves working on the text to sharpen the actor's technique. Additional assignments will be given that help the actors use their own life experiences as a spring board for creative storytelling for their characters. Actors work closely together with a spirit of inspiration rather than competition. All material and scripts will be carefully selected by Alaine for each actor.
WEEKS 1-3: Actors will be working with Alaine extensively on scenes that she assigns in class.
WEEK 4: Showcase the scenes with an industry panel of three special guests.
WEEK 5: Private meetings with Alaine to discuss the overall work as well as the industry feedback.
**PREPARATION**
Account - Please go to My Account to create your webpage. Casting Directors will assign material based on a fully completed webpage.
Headshot/Resume - ALWAYS BRING A HARD COPY TO CLASS FOR FEEDBACK PURPOSES. When the class is over, the guest teaching this class will not be taking nor given access to your headshot, resume, or any other of your promotional materials per CSA guidelines.
*** Class Structure is subject to change. ***
Please understand that our workshops and classes are not job interviews or auditions. The presence of an industry guest is neither a guarantee nor a promise of employment, and such contact as you may have with a guest in a workshop rarely results in any further contact with that person. All workshop companies are prohibited by law from offering or attempting to obtain auditions or employment for you. ** It is the law for all talent training services, of which workshops are a part, to be bonded with the Labor Commissioner of the City of Los Angeles. This seminar or class is for educational purposes only and will not secure or provide opportunity for employment in the field or representation by an agent. Next Level Studios/One on One is bonded in the State of California: #70978001
---
About Alaine Alldaffer
▼

Alaine Alldaffer (Casting) is also the casting director for Playwrights Horizons, where her credits include GREY GARDENS (also for Broadway), CLYBOURNE PARK (also for Broadway), CIRCLE MIRROR TRANSFORMATION (Drama Desk and Obie Awards for Best Ensemble and an Artios Award for Casting), and THE FLICK (Playwright Horizons and The Barrow Street Theater). Television credits include THE KNIGHTS OF PROSPERITY (aka LET'S ROB MICK JAGGER with Sophia Vergara) for ABC. Associate credits include ED for NBC and MONK for USA. Regional Theaters include Arena Stage, Williamstown Theatre Festival, Seattle Rep, ACT, and Berkeley Rep, among others. Other notable theater productions include: DETROIT with David Schwimmer and John Cullum, RAPTURE BLISTER BURN, BETHANY with America Ferrera, DEAD MAN'S CELLPHONE with Mary Louise Parker, EVERY TONGUE CONFESS with Phylicia Reshad, and A LIFE with David Hyde Pierce.
Success Stories

After working with Alaine Alldaffer in the Advanced Industry Workshop, Collette was called in to audition for an Off-Broadway play at Playwrights Horizons!
Collette Astle
About Christopher Silveri
▼

Christopher D. Silveri takes great pride in his career in the entertainment industry that has spanned the last two decades since his graduation from the New York University Theater program. Christopher is the President and CEO of Center Stage Management, LLC, a talent management company with headquarters in New York City.
After a brief stint in acting, Christopher began his entertainment management career casting commercials with Liz Lewis Casting Partners, moved on to head up the Legit Department (Theater, TV, and Film) at Gilla Roos, Ltd. and most recently was Vice President of Talent Management at Prestige Management Group. Christopher started his own talent management company in 2017, serving clients on both coasts and in all mediums of the entertainment business.
Christopher's clients have recurring roles on FBI, Bull, Blue Bloods, God Friended Me (CBS), Gotham (FOX), Manifest, New Amsterdam, The Blacklist, Blindspot, Law and Order SVU (NBC), Orange Is The New Black, Jessica Jones, Unbreakable Kimmy Schmidt, House of Cards (NETFLIX), Marvelous Mrs. Maisel, Mozart In the Jungle (AMAZON), Billions, Homeland (SHOWTIME), Power (STARZ) And those are just the recurrings!
His theatrical clients have been in nearly every Broadway show you can think of: Moulin Rouge, Bandstand, Escape to Margaritaville, The Color Purple, The Lion King, Jersey Boys, Book of Mormon, Million Dollar Quartet, Beautiful, Hamilton, Clueless – The Musical, Heathers—The Musical, etc.
And lest we forget the always special film medium: The First Purge, The Post, Ocean's 8, The Only Living Boy in New York, What Happened Last Night, Going in Style, etc.
Many of his clients have national ad campaigns and/or major print advertisements running as well!
Finally, Christopher is an active presenter to those just starting out in the entertainment industry, teaching and participating in workshops in New York (New York University) and Washington D.C..
Success Stories

After taking a session with Chris Silveri of Prestige Management, Darren was called in to discuss representation.
Darren Lipari
About Alaina Feehan
▼

Alaina is partnering with Christopher Nathaniel at Inclusive Management to offer bi-coastal support to clients!
She is formerly the head Across the Board Talent Agency's New York office. Alaina has almost a decade of experience in talent representation. Clients she has worked with in the past have booked major films, series regular roles on NBC, Netflix, and the WB, guest star,recurring, and co-starring roles for most NYC based shows, Broadway, and regional theatre.
Success Stories

After meeting Alaina Feehan of Across the Board Talent Agency at One on One, Sara was signed and just BOOKED Law and Order: SVU!
Sara Visser
About Albert Bramante
▼
Albert Bramante has been in the entertainment business since 2002. He volunteered at many film festivals including the Tribeca Film Festival, NY Latin Film Festival, and NYC Horror Fest. At these festivals, he networked and worked with many filmmakers and helped them with casting their projects. Albert enjoys working in this industry and helping performers maximize their potential and goals. Recent client bookings include: LAW & ORDER: SVU, GOTHAM, BLUE BLOODS, SNEAKY PETE, MR. ROBOT (an actor Albert met at One on One), THE BLACKLIST, Netflix's THE OA, FALLING WATER, THE PATH, GIRLS, ORANGE IS THE NEW BLACK, THE DEUCE.
Success Stories
After meeting with Albert Bramante of Emerging Talent, Sarah was signed!
Sarah Jorge