Bob Krakower: New Student On-Camera Class SEPT 28 & 30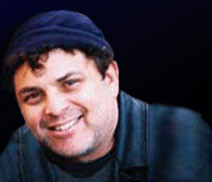 ---
Dates: Thu 9/28 @ 9:30am
Meets 2 times: 9/28 9/30
---
*EDIT AS OF 9/27: Please note that the class meets TWO days.*
This class meets:
Thursday, September 28 @ 9:30 AM - 6:30 PM
Friday, September 29 @ 9:30 AM - 6:30 PM
Saturday, September 30 @ 9:30 AM - 6:30 PM
Check out this podcast with Bob Krakower on acting:

IMPORTANT INFORMATION:
You must be a member of One on One NYC to take this class. If you are not a member, click here to create an account and sign up for a New Member Audition. Please note that Bob's New Student Class is in very high demand. If this class is full, the best way to be notified of upcoming class dates is to join the wait list for this class (once you are a member). Each month when we announce the new class dates, we will email everyone on the wait list from the previous month's class to notify them in advance.
---
Format
This class is on-camera and includes techniques on breaking down a scene, establishing relationships and using the frame of the camera in creating environment within the scene. The first day of class is a cold read and then you will be given scenes to prepare for the following day.
---
About Bob Krakower
▼

Bob Krakower is recognized as one of the top acting teachers and coaches in the business. Sought after by studios, networks, theatre companies and actors, he works out of home bases in New York and Los Angeles, while maintaining a busy schedule of coaching on set for film and television around the country. His clients have been nominated for many prestigious awards including the Academy Awards, The Golden Globes, The Emmys, and The Tony Awards.

On set and off, whether he is working with actors (Rooney Mara, Josh Duhamel, John Slattery, Reba McEntire, Brooke Elliott, Jessica Hecht, Laurie Metalf, Wendy Makkena, Antonique Smith, Robin Weigert and many more) , Stand-up Comics (Louis C.K., Lewis Black, John Pinette, Jimmy Fallon, Greg Geraldo, Jim Norton, and many others) or kids ("Hardball," "All That"), he does so with what Emmy Award Winning director Michael Lembeck has called "the most passionate, kindest, and brightest approach I've ever seen." His studio in New York, housed at One-On-One Productions, is one of the most successful long running acting classes in New York.

A graduate of Tufts University and the American Conservatory Theatre, he also served as Guest Director/Teacher for David Mamet and William H. Macy at the Atlantic Theatre Company, eventually taking over as Director of the Atlantic Theatre Company Acting School, running both the Professional and NYU Undergraduate Divisions. He has been on staff and guest-taught for (among many others), NYU, the Stella Adler Conservatory, The Howard Fine Studio, and The Actor's Center in New York, where he joined Earl Gister (Yale), Lloyd Richards (Broadway), and J. Michael Miller (NYU) as a Founding Faculty Member.

At Actors Theatre of Louisville, he was the Director of Actor Training and Master Acting Teacher, shepherding the school into the national spotlight. In a 1988 he taught at the theatre with the Moscow Art Theatre's famed Studio Chelovek. He was a creative force behind the bi-yearly Shorts Festivals of New American Plays, producing and/or directing over 100 plays, working with such writers as Howard Korder, Lanford Wilson, Jane Anderson, and Jane Martin, among many others. As a Resident Director, he helmed several productions, including the first regional productions of David Mamet's "Speed-The-Plow" and Craig Lucas' "Prelude To A Kiss."

Over the years , he has written several plays that have been published and performed around the country. These include "Mixed Emotions", "No-Win Situation", and the very popular "4a.m. (Open All Night)", which was made into a film starring Tate Donovan and Wendy Makkena, directed by J. Miller Tobin. His script "Bobby Z" (written with partner Allen Lawrence) was directed by John Herzfeld, and starred PaulWalker, Laurence Fishburne, and Olivia Wilde. Currently in development (also with Mr. Lawrence) are "Ramblin Man: Woody Guthrie" and "Any Rough Times".

After years of teaching acting and directing for the stage, ABC -- noting his eye for young talent -- offered Mr. Krakower a job in casting. Over the next three years -- at ABC, MTV, Paramount, and Tollin-Robbins Productions -- he worked as a casting director on over 50 projects, including "NYPD Blue," "My So-Called Life," "Arliss," "All That," and "Varsity Blues." Noting Bob's teaching background, director Brian Robbins also employed him as an acting coach on many projects, culminating in their work together on "The Perfect Score" (starring Scarlett Johansson, Erika Christensen, Chris Evans, Bryan Greenberg, and Darius Miles), and "Hardball" (starring Keanu Reeves). His coaching work evolved into directing assignments, including stints on "What I Like About You", (starring Amanda Bynes and Jennie Garth), "Reba", (starring Reba McEntire)