One On One's ACTOR REEL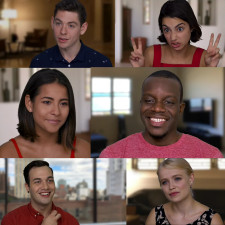 ---
---

Need a professionally made clip of your work to post on Actors Access/Backstage or to send to CDs and Agents? Do you have a SlateShot?

FULLY EDITED REEL, ONE PIECE OF YOUR CHOICE:
YOU MAY CHOOSE EITHER A MONOLOGUE OR A SCENE, PLUS GET A FREE SLATE SHOT AND PRIVATE REHEARSAL

Beautiful lighting and top quality sound • Multiple Textured backgrounds to choose from•Pre-filming consultation with our cinematographer• Full service editing, rendering, and uploading• HD quality video files sent to you within six weeks - freedom to use it on your One On One Actor Page or anywhere else online.

---
Format
PRIVATE COACHING 3/28/2018:
We will discuss your personal preferences for your reel and plan your shoot as you would like it to go and then you will have your work coached and critiqued by director/cinematographer, Gérard Gentil and One On One's Team. You will be given feedback on your material, choices, and what to wear that will enhance your look.

To Bring:
- your scene/monologue
- wardrobe options
- wear your hair the way you plan for the shoot
FILMING 3/31/18:
Execute your best on-camera look before filming your materials with Gérard. For women, this means a clean representation of you on your best day. For men, this means you will not look shiny or overly-made up while on camera.
---
About Gerard Gentil
▼
Gérard Gentil has worked as a director, cinematographer, and photographer around the world for many years. Gérard was most recently offered to direct a feature film in 2017 with producer David Nankoff. Previous projects include directing "Armenian Dreams" (Documentary), DPing "Delivia's Two Brothers" and DPing the short film "Martial Arts" with director Anthony Marinelli.
As a photographer Gérard has traveled a great part of the world from the Caribbean to Malaysia, to Paris, New York, Milan, Athens, Zurich, Toronto, Montreal, etc. He has photographed stars to include Nastassja Kinski, Dizzie Gillespie, Whitney Houston, Janet Jackson, Lena Horne, Wyclef Jean, Rosie Perez, Jack Black and many more!
Gerard has expanded his passion for the camera over the years and brings his wealth of knowledge into creating high-quality fully edited reels that accurately capture the spirit of the actor.