Advanced Industry Workshop Fall 2020 - INTEREST LIST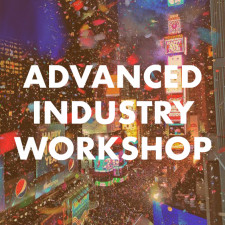 ---
You are on the interest list.
---
If you are an advanced actor looking to meet leading Industry Professionals, the Advanced Industry Workshop is for you!
OCTOBER 28 - NOVEMBER 6, 2020
2 WEEKS with 23 CASTING DIRECTORS, AGENTS, and MANAGERS Consisting of:
-Special intensives with our most Popular Casting Directors for On-Camera, Theatre, & Commercial Work
-Top Industry Agent & Manager Showcases
-3 Special Seminars with Industry Guests
-3 Showcases (Legit Agents, Managers, Commercial Agents)
CHECK OUT THIS VIDEO FOR MORE INFO:
SUCCESS STORIES from previous Advanced Industry Workshops:
MARISA B was called in by Donna McKenna & BOOKED the lead in the feature film LEAVES OF THE TREE, GABRIEL F was called in (on two separate occassions) for two pilots & BOARDWALK EMPIRE, PHILANA M was called in & BOOKED a national GOOGLE commercial, JULIANNA D was called in to audition for BOARDWALK EMPIRE, NATASHIA W was called in to audition for the TBS Sitcom ARE WE THERE YET?, REEMA Z signed with an agent from ABRAMS ARTISTS, ELLIOT B was called in to freelance with a Commercial Agent, KATHRYN F was called in to freelance with a commercial agent, and many more!
PAST CASTING DIRECTORS IN ATTENDANCE:
MEGHAN RAFFERTY (M&M Casting), JEFF DREISBACH (McCorkle Casting), MATTHEW BONIFACIO (Award Winning Film Director), LISA DONADIO (Playwrights Horizons), STEVE VINCENT (S2 Entertainment), KIMBERLY GRAHAM (Judy Henderson & Associates), DONNA MCKENNA (Donna McKenna Casting), AMANDA MACKEY (Mackey Sandrich Casting), MATT WISE (Finnegan Jacobs Casting), STACY GALLO (Stacy Gallo Casting) & more!
PREVIOUS AGENTS & MANAGERS IN ATTENDANCE:
Buchwald, CGF Talent, Judy Boals Agency, DDO Artists, The Krasny Office, Lakey Wolff & Associates, Stewart Talent, JGD Talent, Bohemia Group, Jago Ciro Entertainment, ​Red Letter Entertainment & more!
---
Format
FALL 2020 ADVANCED INDUSTRY WORKSHOP
Over the course of two weeks, actors will work with leading NY Casting Directors in daily intensives, showcase for 23 Agents and Managers at night, and learn how to effectively market and brand yourself in today's digital industry.
The workshop will include:





Industry Q&A Assigned & Prepared On-Camera Videos Sent
(Scenes & Monologues) (TV/FILM Classes)
**PREPARATION**
Account - Please go to My Account to create your webpage.

Sides - Please come prepared with either TV/FILM SIDES (2-3 pages max) or a MONOLOGUE for the Agent/Manager Showcases. You will also get assigned scenes in classes throughout the day.

Reader - For the agent showcase, make sure to bring 2 COPIES OF YOUR SIDES (one with the reader's lines highlighted).
*** Industry guests are subject to change. ***
Headshot/Resume - ALWAYS BRING A HARD COPY TO CLASS FOR FEEDBACK PURPOSES. When the class is over, the guest teaching this class will not be taking nor given access to your headshot, resume, or any other of your promotional materials per CSA guidelines.
*** Class Structure is subject to change. ***
Please understand that our workshops and classes are not job interviews or auditions. The presence of an industry guest is neither a guarantee nor a promise of employment, and such contact as you may have with a guest in a workshop rarely results in any further contact with that person. All workshop companies are prohibited by law from offering or attempting to obtain auditions or employment for you. ** It is the law for all talent training services, of which workshops are a part, to be bonded with the Labor Commissioner of the City of Los Angeles. This seminar or class is for educational purposes only and will not secure or provide opportunity for employment in the field or representation by an agent. Next Level Studios/One on One is bonded in the State of California: #70978001
---
About Advanced Industry Workshop
▼
Success Stories

After working with Alaine Alldaffer in the Advanced Industry Workshop, Collette was called in to audition for an Off-Broadway play at Playwrights Horizons!
Collette Astle

After attending last November's AIW (first session) I was called in by Katie Murphy to meet Meg Pantera. Meg and Katie signed me! I am now represented by Pantera/Murphy.
Daniel Popowich

I got called in for a commercial audition after meeting Abrams agent Jerry Kallarakkal at the November AIW.
Llewellyn Connolly

Called called in for a commercial audition by Abrams agent Jerry Kallarakkal after meeting him at the AIW.
Llewellyn Connolly

Booked a meeting with BLOC NYC to discuss commercial representation after Advanced Industry Workshop!
John Bernos

After taking part in the Advanced Industry Workshop, Abby signed across the board with BLOC and has booked a commercial and a co-star role!
Abby Awe
I signed with bloc across the board (commercial and legit) after completing the Advanced Industry Workshop and booked a Subway commercial shortly after!
Abby Awe

I was called in by Irene at DDO Artists after working for her at the Advanced Industry Workshop and am now freelancing with them.
Nathaniel Janis

After meeting Irene Cabrera and Ginna Manfredi of DDO Artist Agency during the Advanced Industry Workshop, Becca began freelancing with both of them!
Becca Co

After taking Stacy Gallo's Advanced Industry Workshop Commercial Class and Showcase, Luis was called in for a meeting with Jerry Kallarakkal of DDO!
Luis Carlos de La Lombana