Bilingual Night with 6 New York Agents!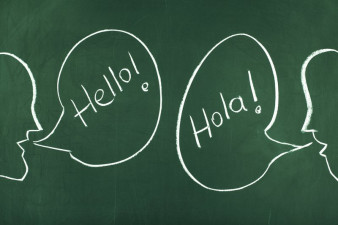 ---
---
ARE YOU BILINGUAL & LOOKING FOR REPRESENTATION?
We've reached out to a few New York agents who are ACTIVELY SEEKING bilingial actors for their roster! New York shows are buzzing with opportunities for foreign-language speakers and we're ready to get you in the audition room!
Panel Guests:
Barry Kolker, The Carson Kolker Organization
John Shea, Frontier Booking
Todd M. Eskin, ATB Talent
Irene Cabrera, DDO Artists Agency
Katie Murphy, Meg Pantera Agency
Barry Katz, Dulcina Eisen Associates
---
Format
Please prepare either a short side or a monologue with your chosen language. If you are preparing sides, please bring in a copy in English for the reader.



There will be three agents in each room so you will do your piece twice and receive written feedback from all six agents.
This seminar or class is for educational purposes only and will not secure or provide opportunity for employment in the field or representation by an agent. One on One is bonded in the State of California: #70978001
---
About Barry Kolker
▼
Barry Kolker is the Owner and a Talent Agent at The Carson Kolker Organization Ltd. Barry has been in the agency business for 25 years. This boutique agency represents performers for film, television, and theatre. Recent client bookings include: STRANGER THINGS, CHICAGO FIRE, WHEN WE RISE, SHADES OF BLUE, THE DEUCE, THE BREAKS, ELEMENTARY, among others. Current Broadway Bookings include: KINKY BOOTS, PHANTOM OF THE OPERA, SCHOOL OF ROCK, A BRONX TALE, ANASTASIA, WAR PAINT. Tours: THE KING AND I, FINDING NEVERLAND. Barry is pleased to be a guest again at One on One NYC.
Success Stories

After meeting Barry Kolker at One on One, Tommy Beardmore was signed with The Carson Kolker Organization!
Tommy Beardmore
About John Shea
▼

John Shea, director of the New York office of Frontier Booking International since 1993, has helped maintain and strengthen its reputation as a top agency. FBI is known for establishing the careers of some of today's top stars, beginning with its first client, Courtney Cox. The ever-growing talent division of FBI specializes in performers of all ethnicities. Their clients have been recognized in various mediums of entertainment (especially film, television, and theatre). John's clients can be seen in Broadway's upcoming A BRONX TALE and THE BODYGUARD, the films DEATH NOTE, PATRIOT GAMES, DERAILED, BLOCK ISLAND, on television in FEED THE BEAST, ORANGE IS THE NEW BLACK, BULL, GOTHAM, SHADES OF BLUE, DESIGNATED SURVIVOR, and many more.
Success Stories

After attending the Agent & Manager Panel, Devon was called in by John Shea to discuss representation!
Devon Caraway

After attending the Agent & Manager Panel, Umi was called in by John Shea to discuss representation!
Umi Shakti

After attending the Agent & Manager Panel, Nick was called in by John Shea to discuss representation!
Nick Ritacco
About Todd Eskin
▼
Todd has been with ATB Talent since 2012 where in addition to being Vice President of the theatrical department he also serves as head of the theater department.
​
Todd graduated from the University of Central Florida with a B.F.A. in Musical Theatre Performance. He became a working member of the Society of Directors and Choreographers, Actors' Equity Association, the American Guild of Variety Artists, and Canadian Actors' Equity Association. Shortly after, he began his representation career as an agent trainee at Abrams Artists Agency in Los Angeles. Todd is also an associate member of the National Alliance of Musical Theatres (NAMT).
About Irene Cabrera
▼
Irene Cabrera is an agent at DDO Artists Agency (NYC), a boutique agency representing actors, singers, and dancers for theater, film, and television. Over the past few years, Irene has developed a first-class roster that can be seen on Broadway and Off-Broadway stages, in regional, touring, and international productions, and on episodic television and films. She has been instrumental in launching DDO's children's department. Prior to joining DDO, she was a producer and an artist manager, with a passionate commitment to nurturing artists of color and championing work that expands boundaries of race, gender, and identity. She worked with visionary writer/director/producer George C. Wolfe at The Public Theater for 14 years. She began as co-founder of The Public's Community Affairs department, a nationwide model for audience development, and went on to become a key member of the producing team on countless award-winning plays and musicals, working with some of the finest artists working today, such as Tony Kushner, Jeanine Tesori, Suzan-Lori Parks, and Nilo Cruz. Launching George C. Wolfe's independent production company, ColorMad Productions, she worked on his film LACKAWANNA BLUES for HBO and Rosie Perez's documentary YO SOY BORICUA for IFC. She went on to develop and produce music, stage, and television projects with Grammy Award-winning musician/activist Dan Zanes. She is currently working on the pre-production of BLACK GIRL, YOU'VE BEEN GENTRIFIED, a television pilot with Epoch Films. Irene moved to the United States from her native Puerto Rico in 1984. She was named Personaje de la Semana, and Top 50 Latinas of the Year by El Diario La Prensa for her commitment to developing and producing works of artists of color. She was also featured in Latina Magazine's Latina Mothers in America. She lives in New York City with her husband (tap dancer/choreographer Derick K. Grant) and their two teenage children. Recent client bookings include: BULL, THE GET DOWN, BLACKLIST, GOTHAM, ALL EYEZ ON ME, and Broadway's HAMILTON, THE COLOR PURPLE, AN AMERICAN IN PARIS, SPONGEBOB.
Most recently, Irene's client Josh Andres booked the role of Chino in the Steven Spielberg remake of West Side Story!
Success Stories

After meeting Derek Christopher at One on One, Irena Cabrera from DDO called him in for a meeting and they are now working together for legit and commercial work!
Derek Christopher Murphy
About Katie Murphy
▼
KATIE MURPHY- Agent, Pantera/Murphy, The Agency
Graduated from Nazareth College of Rochester, with a Bachelor of Science in Musical Theater. Katie has been working at Meg Pantera The Agency for 2 ½ years, and just became an agent. Katie participates in the Actors Loft when available.www.actorsloftnyc.com
Success Stories

After attending last November's AIW (first session) I was called in by Katie Murphy to meet Meg Pantera. Meg and Katie signed me! I am now represented by Pantera/Murphy.
Daniel Popowich

I was called in for a meeting with Katie Murphy from Pantera/Murphy Agency!
Zonia Edward
About Barry Katz
▼
Barry Katz has been an agent with Dulcina Eisen Associates for almost 27 years. The agency works with trained actors in theater, film, and TV. Some recent Broadway client credits include THE HUMANS, LONG DAY'S JOURNEY INTO NIGHT, ALADDIN, and MATILDA. Off-Broadway credits include HIMSELF & NORA, SHEAR MADNESS, A CLASS ACT, and shows at The Pearl, The Mint, NY Classical, and Roundabout. Clients can be seen on television in BLUE BLOODS, BLACKLIST, GOTHAM, PERSON OF INTEREST, ELEMENTARY, LAW & ORDER: SVU, MR. ROBOT, ORANGE IS THE NEW BLACK, and more. Fun Fact: Barry has bicycled across the state of Iowa 29 times.