ONLINE COMMERCIAL CLASS (8am PT / 11am ET) with UCB's Stacy Gallo + AGENT SHOWCASE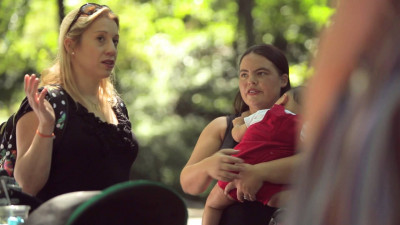 ---
Dates: Wed 8/5 @ 11am ET / 8am PT
Meets 3 times: 8/5 8/12 8/19
---
Join us LIVE online!
You will receive a Zoom link and instructions at least 6 hours before the beginning of class. Please check your spam and promotions folder. If you still do not see the email, please email us at info@oneononenyc.com! If you sign up for the class the day before or the day of, please also email us so we can provide you with your Zoom link.
Learn tricks for booking commercials from UCB teacher and Commercial Casting Director Stacy Gallo - one of our most popular teachers!

Fine tune your on-camera commercial audition skills in this fun and relaxed class. Many of Stacy's students have been called in and BOOKED NATIONAL network spots as well as being connected and signed with top NY Agencies!
This class will conclude with a showcase with leading commercial agents from top tier agencies.
Watch a video from Stacy on what to expect from her class:
Stacy and agent Phil Cassese talk about commercial opportunites for actors:
---
Format
The only things you need are :
- Reliable Internet (Ethernet or Fast WiFI)
- A Laptop/Desktop computer is recommended (Phones/Tablets are doable)
- Quiet Room/Space
This is your chance to learn from an experienced casting director about the world of commercial auditions and the importance of improvisation. This three-week class is perfect for actors brand new to commercials as well as established commercial actors.
WEEK ONE: You will learn how to quickly interpret commercial scripts and bring out the best delivery you can. You will also be taught skills on how to feel and look comfortable in front of the camera and how to use improvisation to help enhance your performance. Commercial copy will be assigned the day before class via the One on One website.
WEEK TWO: You will have a script from the previous class to prepare for the following week's Showcase.
WEEK THREE: Present your work, with Stacy in the room, to two popular Commercial Agents who regularly call in One on One actors.

**Your scene work is video taped & made into a movie clip!
After each class, you will receive an email with a link so
you can watch your own video clip from this class.
PREPARATION
Please go to MY ACCOUNT to create your One on One Webpage. Be sure to upload your headshot and enter in your credits. It's especially important so that Stacy can view your online resume ahead of time.
ONLINE CLASSES
You MUST have a reliable internet connection in order to have the optimal experience. One on One will NOT credit you if your class experience is affected by internet or technical issues on your end.
The Zoom link for each class is sent out approximately 6 hours beforehand. It is your responsibility to make sure you have the link and to reach out to One on One PRIOR to the start of class if you have not received it. Please be sure to check your Inbox, Promotions, and Spam folders.
If you sign up for an Online Class the day of, you must email info@oneononenyc.com so you can be sent the Zoom link for the class.
One on One is proud to offer our online classes with casting directors in both NYC & Los Angeles. The start time of the class along with the respective time zone is listed clearly on the class page. It is your responsibility to mark your calendars accordingly. One on One will NOT credit you if you did not take the time zone of the class into account.
***Class Structure is subject to change.
This seminar or class is for educational purposes only and will not secure or provide opportunity for employment in the field or representation by an agent. One on One is bonded in the State of California: #70978001
---
About Stacy Gallo
▼
Stacy has been a casting director in New York for the past 15 years. She started at MTV as a casting assistant and quickly went on to become head of casting on a live show. In 2001, she was tapped to create an in-house casting company for Hungry Man, called Downstairs Casting, and ran that department for seven years. Since going out on her own in 2008, she continues casting a variety of projects, including many national network commercials for notable directors and clients. Many of her students have gone on to sign with top commercial agents and have booked many national commercials as well as signed with some of the top commercial agents, including Maura Maloney at CESD, Phil Cassese at TalentWorks, Amy Mazur at Abrams Artists, Katherine Ryan at Don Buchwald and Associates, and Stacye Mayer at Paradigm. Visit www.stacygallocasting.com for more informaiton about Stacy and what she is working on!
Success Stories

I took Stacy's commercial improv class and afterwards had meeting with Take 3 talent and Stewart Talent. I signed with Stewart Talent commercially.
Alexis Cash

After taking Stacy Gallo's Advanced Industry Workshop Commercial Class and Showcase, Luis was called in for a meeting with Jerry Kallarakkal of DDO!
Luis Carlos de La Lombana

After completing the commercial class with Stacy Gallo, Lucinda was called in by Jerry Kallarakkal of DDO and is now freelancing with Jerry!
Lucinda Carr

After taking Stacy Gallo's two week class, Andrew was called in for a meeting with CESD!
Andrew Yurman-Glaser

After taking Stacy Gallo's Commercial Improv Class, Lucinda was called in for a meeting with Jerry Kallarakkal.
Lucinda Carr

After taking Casting Director Stacy Gallo's Commercial class, Michael was called in to discuss commercial representation with Phil Cassese!
Michael Satow
About Doug Kesten
▼
KMR is one of the most elite Commercial Talent Agencies in NY. Doug works with actors freelance and signed.
RECENT ONE ON ONE MEMBERS CALLED IN AND/OR BOOKED:
Sayra Player, Suzan Mikiel Kennedy, John Joseph Gallagher, Matthew Miller, Lisa Barri, Paulette Williams, Elizabeth Fountain, Patrick Carroll, Kelly Anne Burns, Gamze Ceylan, Samara Bay, Connie Renda, Sara McGowan, Craig Zisel, Deanna Gibson, Susan McGowan, Meryl Hathaway, Rhe De Ville, Lareysa Smith, Benjamin Forster, Jay Devore, Adam Lerman, Amy Staats, Emma Tattenbaum-Fine.
After one of his recent private sessions, Doug sent out 5 actors and two of them booked national commercials! WENDY'S
KY JELLY
AFLAC
PEARLE VISION CENTERS
CHARLES SCHWAB
DOMINO'S
WRIGLEY'S
KOHL'S
EXCEDRIN
CARNIVAL CRUISES
AOL
UNIVERSAL THEME PARKS
OLD NAVY
MARRIOTT
DODGE
BURGER KING
TOYOTA
MTV
OLIVE GARDEN
CADBURY CHOCOLATES
Success Stories

Emilee Dupre was called in for a meeting by Doug Kesten of KMR TALENT after our ONLINE COMMERCIAL AGENT PANEL!
Emilee Dupre

After meeting Doug Kesten from Paradigm agencyl, he sent her out on a Dunkin Donuts audition
Teresa Morrison

After meeting Katherine at a Commercial Panel, Doug Kesten of Paradigm sent her out on an audition for Verizon!
Katherine Dudas
About Gina Manfredi
▼
Gina Manfredi is the On-Camera agent at DDO New York. She has been on the team at DDO Artists Agency for seven years. Gina Manfredi is this year's winner of the Heller Award for Commercial Agent of the Year. She is dedicated to the success of her clients and is enthusiastic about developing and maintaining positive business relationships. Gina attended Wagner College in New York City where she earned a degree in Arts Administration.
Success Stories

After meeting Irene Cabrera and Ginna Manfredi of DDO Artist Agency during the Advanced Industry Workshop, Becca began freelancing with both of them!
Becca Co

After taking a session at One on One with Gina Manfredi, Josh Rhett Noble was called in for a followup meeting and is now working with DDO Artist Agency!
Josh Rhett Noble

After taking a session at One on One with Gina Manfredi, Dante Costabile was signed with DDO Artists!
Dante Costabile