ONLINE PANEL (3:30pm PT / 6:30pm ET): Meet FOUR NYC COMMERCIAL AGENTS in ONE evening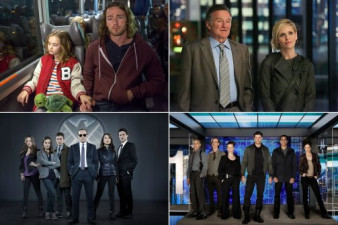 ---
Date: Tue 12/1 @ 6:30pm ET / 3:30pm PT
---
Join us LIVE online!
You will receive a Zoom link and instructions at least 6 hours before the beginning of class. Please check your spam and promotions folder. If you still do not see the email, please email us at info@oneononenyc.com! If you sign up for the class the day before or the day of, please also email us so we can provide you with your Zoom link.
Looking to meet some of the industry's top representative professionals?

This is an amazing opportunity to meet & work with
FOUR LEADING NYC COMMERCIAL AGENTS IN ONE EVENING!
Guests for the evening include:
Phil Cassese from STEWART TALENT
Doug Kesten from KMR
Tabitha Diaz from ABRAMS ARTISTS AGENCY
Maura Maloney from CESD
This is a great opportunity to SHOWCASE your work to
FOUR leading INDUSTRY PROFESSIONALS!
*Panel Guests Subject to Change*
---
Format
The only things you need are :
- Reliable Internet (Ethernet or Fast WiFI)
- A Laptop/Desktop computer is recommended (Phones/Tablets are doable)
- Quiet Room/Space
*FORMAT*
The panel will begin with quick introductions from each panelist, followed by a brief industry discussion with pre-selected questions from One On One / Next Level.
You will then be seen PRIVATELY by the panel using COMMERCIAL COPY OF YOUR CHOICE. After your performance, you will have a brief period to give a quick pitch of your career highlights.
Don't have commercial copy of your own? Feel free to use ones from our online library - CLICK HERE
Your headshot/resume will be provided to the panelists DIGITALLY via your One on One / Next Level webpage. Please be sure your webpages are complete with headshot, resume, and ideally a video clip.
The private sessions will be performed in ALPHABETICAL ORDER BY LAST NAME. Please be patient if your last name is further down the list as there will be a wait. **No time requests will be taken.**
**PREPARATION**
Account - Please go to My Account to complete your webpage. Industry panelists are provided access to your webpage & contact information.
Headshot/Resume - The panelists are provided with industry accounts which have digital copies and are linked to your One on One / Next Level webpages. Please be sure your webpages are complete with headshot, resume, and ideally a video clip.
ONLINE CLASSES
You MUST have a reliable internet connection in order to have the optimal experience. One on One will NOT credit you if your class experience is affected by internet or technical issues on your end.
The Zoom link for each class is sent out approximately 6 hours beforehand. It is your responsibility to make sure you have the link and to reach out to One on One PRIOR to the start of class if you have not received it. Please be sure to check your Inbox, Promotions, and Spam folders.
If you sign up for an Online Class the day of, you must email info@oneononenyc.com so you can be sent the Zoom link for the class.
One on One is proud to offer our online classes with casting directors in both NYC & Los Angeles. The start time of the class along with the respective time zone is listed clearly on the class page. It is your responsibility to mark your calendars accordingly. One on One will NOT credit you if you did not take the time zone of the class into account.
Please understand that our workshops and classes are not job interviews or auditions. The presence of an industry guest is neither a guarantee nor a promise of employment, and such contact as you may have with a guest in a workshop rarely results in any further contact with that person. All workshop companies are prohibited by law from offering or attempting to obtain auditions or employment for you. ** It is the law for all talent training services, of which workshops are a part, to be bonded with the Labor Commissioner of the City of Los Angeles. This seminar or class is for educational purposes only and will not secure or provide opportunity for employment in the field or representation by an agent. Next Level Studios/One on One is bonded in the State of California: #70978001
** Panel guests subject to change.
**Format subject to change
---
About Industry Guests II
▼
About Phil Cassese
▼
Phil Cassese is the senior on-camera commercial agent at Stewart Talent. Phil previously held the same position at TalentWorks, where he spent the last six years developing a highly competitive roster of talent. After spending several years in the music industry and personal management, Phil was recruited to helm the commercial division of TalentWorks. Prior to working for TalentWorks, Phil successfully created a commercial division at a small theatrical agency. Phil's interest in comedy led him to develop a strong roster of improvisers and comedic actors. He works on and has booked a wide array of commercial projects from multi-faceted campaigns to smaller niche projects.
Success Stories

I took Stacy's commercial improv class and afterwards had meeting with Take 3 talent and Stewart Talent. I signed with Stewart Talent commercially.
Alexis Cash

After taking Casting Director Stacy Gallo's commercial class Rita was called in to discuss commercial representation with Phil Cassese!
Rita Thompson
About Doug Kesten
▼
KMR is one of the most elite Commercial Talent Agencies in NY. Doug works with actors freelance and signed.
RECENT ONE ON ONE MEMBERS CALLED IN AND/OR BOOKED:
Sayra Player, Suzan Mikiel Kennedy, John Joseph Gallagher, Matthew Miller, Lisa Barri, Paulette Williams, Elizabeth Fountain, Patrick Carroll, Kelly Anne Burns, Gamze Ceylan, Samara Bay, Connie Renda, Sara McGowan, Craig Zisel, Deanna Gibson, Susan McGowan, Meryl Hathaway, Rhe De Ville, Lareysa Smith, Benjamin Forster, Jay Devore, Adam Lerman, Amy Staats, Emma Tattenbaum-Fine.
After one of his recent private sessions, Doug sent out 5 actors and two of them booked national commercials! WENDY'S
KY JELLY
AFLAC
PEARLE VISION CENTERS
CHARLES SCHWAB
DOMINO'S
WRIGLEY'S
KOHL'S
EXCEDRIN
CARNIVAL CRUISES
AOL
UNIVERSAL THEME PARKS
OLD NAVY
MARRIOTT
DODGE
BURGER KING
TOYOTA
MTV
OLIVE GARDEN
CADBURY CHOCOLATES
Success Stories

Emilee Dupre was called in for a meeting by Doug Kesten of KMR TALENT after our ONLINE COMMERCIAL AGENT PANEL!
Emilee Dupre

After meeting Doug Kesten from Paradigm agencyl, he sent her out on a Dunkin Donuts audition
Teresa Morrison

After meeting Katherine at a Commercial Panel, Doug Kesten of Paradigm sent her out on an audition for Verizon!
Katherine Dudas
About Tabitha Diaz
▼
Tabitha Diaz is a New York native with an intense passion for the arts. Tabitha attended New York University where she completed a degree in dramatic arts and a minor in business entertainment, and media technologies. Tabitha has worked on a variety of projects for on camera commercial, print campaigns, voiceovers, and comedy. Tabitha is currently an On Camera/ Commercial Print agent at Abrams Artists Agency.
About Maura Maloney
▼
Maura Maloney is an Agent at Cunningham Escott Slevin Doherty, a BI-COASTAL Agency, where she works with freelance & signed clients. CESD is one of the TOP AGENCIES to work with commercially. They have great relationships with all the major casting directors.
CESD'S CLIENTS' CREDITS INCLUDE:
DISNEY
SPRINT
VOLKSWAGON
BAYER
PFIZER
VIOXX
METAMUCIL
GLENFIDDITCH
MILLER BEER
SAM ADAMS
BUDWEISER
SEARS
OLIVE GARDEN
VISA
CREST
CHEVROLET

NATIONAL NETWORK SPOTS W/ CESD CLIENTS:
CAMPBELLS
VONAGE
COLDWELL BANKER
CHASE
VERIZON
APPLE
MCDONALDS
TIDE
CAPTAIN MORGAN'S
MICROSOFT
OCEAN SPRAY
COMCAST
OIL OF OLAY
NY LOTTO
LOWES